CMash Loves to Read
is starting a new Tuesday Meme called
Table Talk Tuesdays
that has book bloggers getting to know each other, inspired by the idea of friends meeting over a cup of coffee and talking about their lives.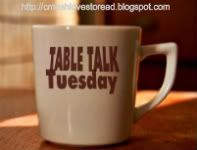 So without further adieu here are my 3 tidbits/questions -
1. What are you reading right now? I know it's a bit of a generic question but I'm having a hard time picking anything up and staying interested in it, so I'd love to hear what's caught your attention.
2. My favorite place to meet people is at a coffee shop. It doesn't even have to be a cute, locally owned one, Starbucks is fine with me.
3. In addition to Loving Books I have a blog over on Livejournal. I have written in it every day for almost two years (September 8th will be the actual day. YIKES). I try to write a bit about my life every day but lately I seem to only be able to get out a couple of vague sentences before bed alluding to how tired I am and how little i want to work/go to school/do things in general. If I overlook my sometimes less than stellar content it is one of the things I'm most proud of.
Don't be shy! I'd love to hear (ok, read) what you think